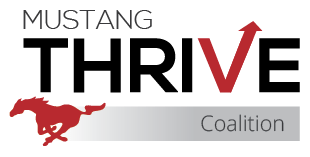 Want to Make Your Community a Better Place?
Be Part of a Group That's Working for Positive Change
Fun

activities, like movie nights, field trips, and more!

Education

regarding teen substance abuse, bullying, self-respect, respect for others, peer pressure, and much more.

Training

on how to make a lasting impact on our schools and community by leading the way in awareness and prevention.

Help & Support

for those at risk of substance abuse, mental health issues, or other problems.

A Place to Belong

full of fun, laughter, and a sense of family among members.
Ready to Get Involved?
Everything You Need to Know About Joining the Mustang Thrive Youth Coalition
What

A group of middle and high schoolers who want to make a positive change in their community.

When & Where

High School Meetings - Every 2nd and 4th Monday during lunch in room 217

Middle School Meetings - Stay tuned!

What to Bring

In order to be included in photos we take and share on social media, we need a photo release form signed by your parent or guardian. Please turn in signed forms to your club advisor.  

What to Expect

Our meetings focus on planning and preparing for activities, awareness campaigns, and other events we are promoting. Be prepared to help brainstorm ideas, work with other school clubs, and get creative with posters and other promotional materials.